Mould Design & Development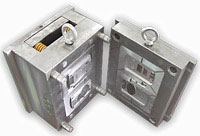 With the philosophy of engineering-driven mold manufacturing, our highly trained designers and engineers work together to establish the crucial foundation for the manufacturing of highest quality precision molds.

Injection mold design any complexity small multi cavity to large automobile parts and Multi colour lens moulds with complicated parting-line, slides, angular lifters, inner slides, Fix-Half slides, hydraulic or mechanic movements, unscrewing, double ejection, Hot Runner Systems with manifolds, different gate systems, Gas injection; tool quick changing systems, interchangeable or hand loaded inserts, metal or other material insert moulding depending up on the volume, accuracy and life specified by the customer as Prototype, precision and high volume moulds.

our design and manufacturing engineers are trained in NTTF and our manufacturing operating systems are globally integrated. This allows us to leverage on the latest technology as well as provides a strategic platform to serve our customers globally.

We follow standard mould base like DME, HASCO, FUTABA, LKM to complete the mould design only in 3D model with Assembly views, Material list and part details as per the customer specification if customer requires Process chart, Electrode design, Electrode reference sketch, Wire cut details, Core and Cavity Programming will be done for manufacture to support parallel to cut down the manufacturing lead time.


Customer benefits include:
Global mold design practices
3D associated design
Integrated prototyping and
production tooling
Shorter lead times
Quick design changes and modifications
Greater precision
Competitive pricing
Highest quality

Skill Sets:
3D Surface Modeling
3D Wire frame Design
2D Drafting and Detailing
Draft Analysis
Core/Cavity Extraction
Electrode Design & Manufacturing
Waterline Design & Optimization
Mold Design Functions

Capabilities:

Injection Mould
Compression Mould
Transfer Mould
Blow Mould