Computer Aided Engineering (CAE)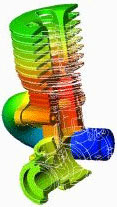 Vassmaan has a strong team of engineers working in the field of computer-aided engineering.

The technical team includes a rich blend of engineers from Automobile, Medical, Consumer Appliances, Electrical and Electronics and General engineering industry. Excellent technical background, quality consciousness and working to exceed the customer satisfaction are the core strengths of this group.

The spectrum of expertise encompasses analysis, testing, test-analysis correlation and optimization. Their experience in formulating mathematical models, correlating with test results and predicting performance of components as well as assemblies in various environments, is widely appreciated in all the sectors.

Our mission is to provide the clients with the best analysis solutions available and the highest level of support and quality possible.
Capabilities:
Mould Flow Analysis
3D flow simulation
Fill time, Injection pressure, temperature analysis